Programs and Activities

Chinmaya Balavihar 
 Balavihar is held every Sunday in the Cultural Center from 10:30 am to 12:00 pm during September through May. The goals of Balavihar are to Promote, instill, and foster Indian culture in children of our community to build character, self-esteem and leadership to raise them as responsible and compassionate citizens.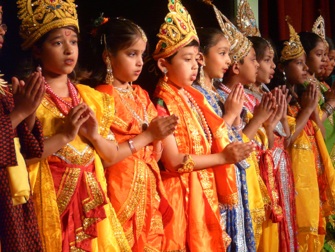 Please click the above button to pay for Bala Vihar using your credit card. While entering the credit card information, please make sure to specify the correct billing address as it appears in the records of your credit card company.
The class follows the BalaVihar curriculum, which is the version of Chinmaya missions Vedic Heritage teaching program (balavihar). Prayers, Shlokas, Stotras and Yoga are also taught.
Class Structure and Curriculum:
Kindergarten : The Alphabet Safari

1st grade – Bala Ramayana

2nd grade – Sri Hanuman the Superman

3rd grade – Bala Bhagvatam

4th grade – Krishna Krishna Everywhere; My 24 Teachers

5th grade – Symbolism in Hinduism

6th grade – India, The Sacred Land

7th grade – P.O. Box Mr.God; Key to Success

8th grade – Yato Dharmah, Tato Jayah

9th grade – Hindu Culture

10th, 11th, 12th grade – Gita for Youth;Community outreach and activities, volunteering

Adults –   Vedanta Study Group
"Children are not vessels to be filled but lamps to be lit. The seed of
spiritual value should be sown in young hearts…It must be cared for with
the warmth of love and affection, and such a tree shall blossom forth
flowers of brotherhood, love, peace, bliss, and Perfection.".
– Pujya Swami Chinmayananda
We try to make the classes very interactive and fun for the children. We celebrate festivals. We sing, chant, and explore our rich heritage through many stories! We end the academic year with the Annual Heritage Day which showcases the students' knowledge learned throughout the year.
~ BalaVihar Sevaks and Sevikas
For inquiries, email the class coordinator at  [email protected]