Shridhara Jayateerthachar
Summary
An established scholar in Sanskrit. Having more than fifteen years experience in managerial, priestly and teaching experience in various temples and mutts in southern India as well as in northern India and abroad.
Languages Spoken
Sanskrit, Hindi, Kannada, Tamil, Tulu and English
Qualifications/Accomplishments
M.A.Sanskrit from University of Mysore-India. [First class] in April 1997
Naveena Nyaya Vidwan from Karnataka Education Board. [First class] march 1997
Studied Sanskrit, Vedanta, Veda, Upanishad.Vyakarana, Tarka and Pourohitya at Sri Poorna Prajna Vidya Peeta
Bangalore from 1985 to 1996. B.A. in English from Bangalore University in April 1995.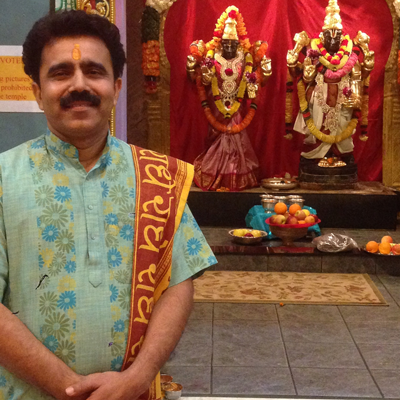 Ghanashyam Sharma
Summary
Knowledgeable and experienced priest 16 years of experience in Karmakand
Proficient in: Jyotish(Astrology) & Palmistry. Shukla Yajurveda Bhajan, Pravachan, Yoga, Yagya & Sodasha Sanskaars.
Languages Spoken

Sanskrit, Hindi and English.
Qualifications/Accomplishments Academic
Intermediate (Arts) Passed From Board of Higher Secondary
Education of Assam Board in 1992.
High school (Arts) Passed From Board of Secondary
Education of Assam Board in 1988.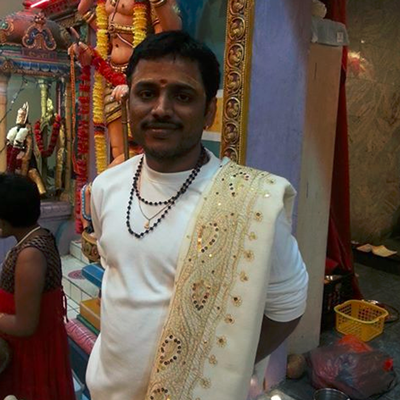 Srinivasa Sharma
Summary
Vedic Pundit expert in Shodasa Samskaram, Agama, Vaidika, Jyothisa and Vastu Sastra (Vidwan). Successfully organized and performed various Devatha Pratishta, Kumbhahishekam, Nava, Satha, Sahasra Chandi Yaagas.Served as Veda Pandit in Maruthi Temple, Dilsukhnagar, Hyderabad on Tirumala Tirupathy Devasthanam's appointment. Managed the daily operations of the Vedic Pathasala in Mandhini and trained 70-80 young aspiring Veda students.
Languages Spoken
Telugu, Hindi, English
Qualifications/Accomplishments
Jyothishyam, Griha pooja, Vastu, Shodasa Samskaram, Agama, Vaidika
A Post Graduate in Veda Karma Pathi
Can conduct Maharudrams and Chandi Homas and Durga Saptashati parayanas