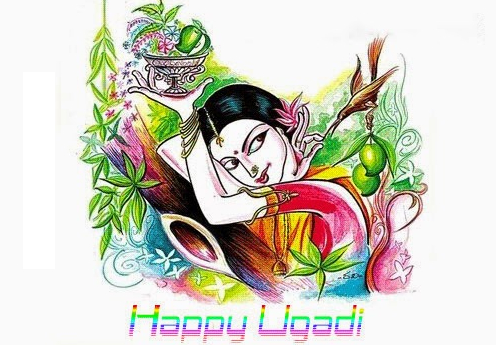 Ugadi & Gudi Padwa Celebrations
The name Yugadi or Ugadi is derived from the Sanskrit words yuga (age) and ādi (beginning): "the beginning of a new age". Yugadi specifically refers to the start of the age we are living in now, the Kali Yuga. The Kali Yuga began when Lord Krishna left the world. Maharshi Vedavyasa describes this event with the words "Yesmin Krishno divamvyataha, Tasmat eeva pratipannam Kaliyugam".
The Saka calendar begins with the month of Chaitra (March–April) and Ugadi marks the first day of the new year. Chaitra is the first month in Panchanga which is the Indian calendar. In some parts of India it is known as Vikram Samvat or Bhartiya Nav Varsh. The Hindu New Year is Shalivahana Shaka 1939. This festival is mostly prevalent in Karnataka, Andhra Pradesh, Telangana, and Maharashtra. Gudi Padwa, which is the Marathi new year, is also celebrated on the same day.
Event Details:
      Ugadi – Tuesday, Mar 28th:
                       10:00 AM – 11:30 AM – Laskhminarayana Abhishekam for Ustavamurthis
                       07:00 PM – 07:30 PM – Vishnu Sahasranamam & Hanuman Chalisa
                       07:30 PM – 08:15 PM – Panchanga Sravanam
                       08:15 PM – 08:30 PM – Arathi & Prasad
      Gudi – Sunday, Apr 2nd:

                       10:00 AM – 11:00 AM – Satyanarayana Pooja
                       11:00 PM – 12:00 AM – Cultural Program by Children
       Sponsorships:
                              Grand Sponsor: $1,001
                              Ugaadi Sponsor: $251
                       Event Sponsor: $101
                      Donation: Yathashakthi
Program Details (Please click here for Event Flyer)
For more information please contact:

 
Temple: 518-459-7272; Sridhara Acharya: 518-867-6998; Srinivas Sharma: 518-867-6720; Ghanashyam Sarmah: 518-313-2380