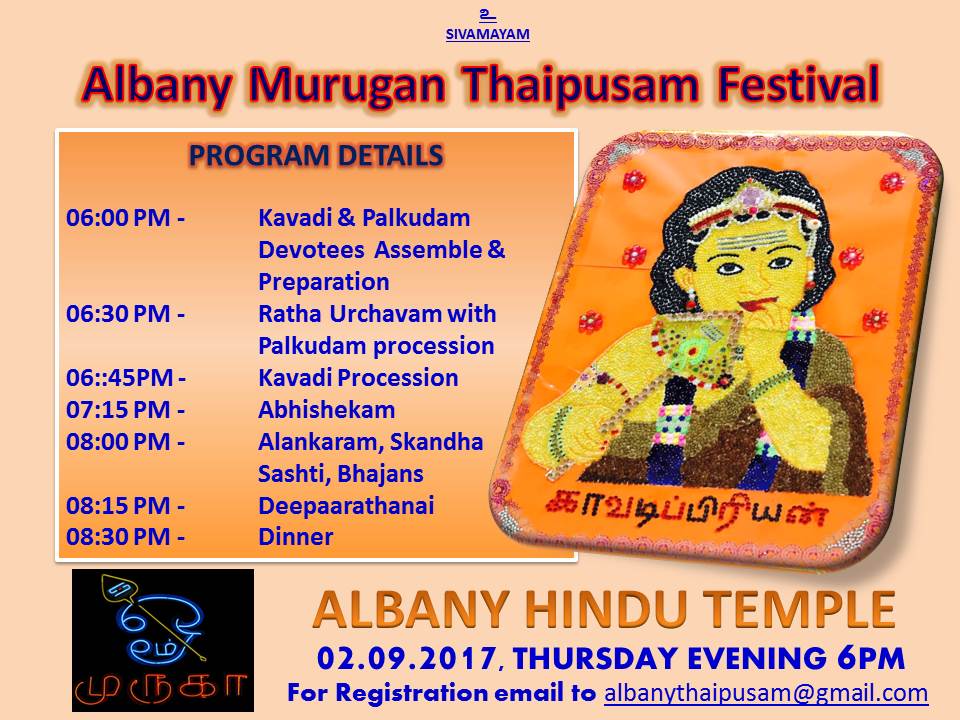 Thaipusam Celebrations
Thursday – Feb 9, 2017

The word Thaipusam is a combination of the name of the month, Thai, and the name of a star, Pusam. This particular star is at its highest point during the festival. The festival commemorates the occasion when Parvati gave Murugan a Ve l "spear" so he could vanquish the evil demon Soorapadman.
Offering Kavadi to Lord Muruga is of great significance as it brings peace and good luck. The story of taking Kavadi is associated with Lord Murugan testing Idumban of his determination and duty towards his Guru. The Kavadi that each devotee carries symbolizes his/her burden like the two hills carried by Idumban. It is believed that the burden in the life of a devotee who carries Kavadi is lessened by Murugan. Taking Kavadi to Murugan temples during Thaipusam is considered highly auspicious.
Palkudam pots are provided by Temple and please bring your own 1/2 gallon milk cans.
Program Details (Please click here for Event Flyer)
For more information please contact:

 
Temple: 518-459-7272; Vasanthi Jayakumar- 518-465-9747; Gayathri Puviyarasu- 518-608-4011; Valli Ragavan- 518-320-8474;
Sridhara Acharya: 518-867-6998;Srinivas Sharma: 518-867-6720; Ghanashyam Sarmah: 518-313-2380