Ganesh Chaturthi Celebration
 September 5-15, 2016
Ganapathi Homam @ 9:30 AM to 10:15 AM
Ganapathi Abhishekam  @ 10:15 AM to 11:00 AM 
Ganesh Aagamana Miravanook @ 10:30 AM to 11:00 AM
Ganesh Sthapana @ 11:00 AM to 12:00 PM 
Mahaprasad @ 12:00 AM to 1:00 PM
Daily Aarti and Prasad @ 7:00 PM to 8:00 PM
Daily Aarti and Prasad @ 7:00 PM to 8:00 PM
* We request devotees to offer Prasad and flowers for daily Pooja
Ganesh Atharvashirsha Sahasra Paarayanam @ 8:00 AM to 11:00 AM
Bal Kalakar Bhajan @ 11:00 AM to 12:00 PM
Daily Aarti and Prasad @ 7:00 PM to 8:00 PM
Ganesh Festival Brunch @ 11:00 AM to 1:00 PM
Cultural Programs @ 2:00 PM to 4:00 PM
Daily Aarti and Prasad @ 7:00 PM to 8:00 PM
Ganesh Visarjan with Dhol and Tasha Miravanook @ 6:00 PM to 7:30 PM
Daily Aarti and Prasad @ 7:00 PM to 8:00 PM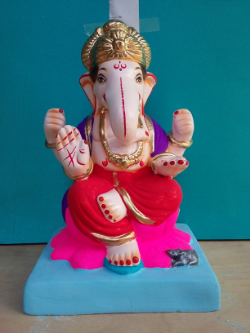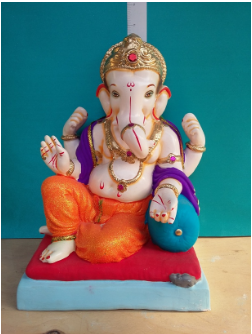 Idol Sale
Ganesh idols are available for purchase at Hindu Temple from August 18, 2016. The idols are about 7 inch high and cost $15 each.
We have limited stock of the Ganesh idols, so we encourage devotees to book your idols at the earliest by contacting:
Hindu Temple Priests ~ 518 459 7272
Suryakant Kale ~ 518 334 2932
Ravi Bhat ~ 518 479 4341
Immersion and handling costs are included in the price for idols sold at the temple. All outside idols will be charged a handling fee of $10 to $25 based on size of the idol.  We request to keep the idol size below 8″ to accommodate proper shipping process for environmentally safe disposal.
Event Details
Starts on 
Monday, September 5, 2016
Ends on Thursday, September 15, 2016
Location:
Hindu Temple, 450 Albany Shaker Road, Loudonville, NY
Sponsors are Welcome